Fourth Way Perspectives
Book Review
Ouspensky & The Hurricane
Hurricane: The Miraculous Journey
of Rubin Carter
by James S. Hirsch
Houghton Mifflin Co., 358 pp.
---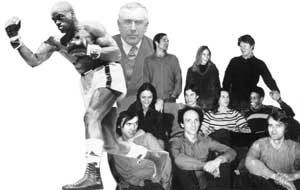 "One moment i'm a champion prizefighter," said Rubin "Hurricane" Carter, "the next moment and twenty years after I am reviled as a triple murderer." But life can change and it did.
On February 29, 1988, after almost 20 years of protesting his innocence in a triple murder and being locked in a 5-by-7 foot maximum security cell at New Jersey's Trenton State Prison, 50-year-old former middleweight contender Rubin "Hurricane" Carter was a free man and said he was not embittered—"I have now received my wings and I am flying."
Hurricane: The Miraculous Journey of Rubin Carter by James S. Hirsch is a detailed account of the boxer's life and the many people and factors that led after two trials to the prosecutor's finally dropping the case after a judge found the prosecution had withheld evidence and the jury had been tainted by racial bias. Least known in Carter's release is the part played by the writer of these words: "I had come to the conclusion a long time ago that there was no escape from the labyrinth of contradictions in which we live except by an entirely new road, unlike anything hitherto known or used by us. But where this new or forgotten road began I was unable to say."
Though written some fifty years earlier, these words of P.D. Ouspensky's rang true and began Carter's self-initiation into the world of esoteric ideas. Ouspensky had written in his In Search of the Miraculous of "penetrating into an unknown reality" from which we were all separated by what he called a "thin film of false reality." This was exactly how Carter had come to see his life. Introduced to such concepts as "essence" (the real) and "personality" (what was learned in himself), Carter began to see himself anew and ponder the persona that had lived his life—"the flamboyant, swaggering boxer who intimidated others in and out of the ring." He began to review the life he led before his incarceration.
Fighting Skills Honed Early
Born in the blue-collar town of Paterson, New Jersey, where racial tension and corruption were also at home, Rubin Carter had a troubled childhood of whippings by his father, fighting other kids and petty crime. Very early he discovered he enjoyed the fighting. He speaks of feeling an energy coming from the pit of his stomach and rising to charge every nerve as he fought. Troubles with the law resulted in one detention after another until, at age 17, he escaped from the Jamesburg State Home for Boys and lied his way into the Air Force. By now, his fighting skills had so developed that he was relieved of all military duties so he could join the Air Force's boxing team. It was during this period that he first learned through the influence of a Muslim friend how to study books for knowledge.
Upon his discharge, Carter returned to Paterson with the intention of becoming a professional prizefighter but was soon arrested to complete the time at Jamesburg. Released a year later and embittered, Carter tried holding a factory job but soon fell into crime again and returned to life behind bars. Believing that boxing was his best chance to make a living and stay out of trouble, he began training seriously. Leaving prison, he began his boxing career and soon showed that very few could match his skill and intimidating style. Named "The Hurricane" for his smashing, take-no-prisoners style, he fought as a middleweight through the 1960s.
Militant and rebellious in his resentment of white racism, on a trip to fight in South Africa Carter got a glimpse of much greater racial strife than in the U.S., and he smuggled some guns to Steve Biko, the South African activist who was later murdered. Back in Paterson, and now a high-ranking contender with enormous earnings, Carter dressed elegantly, drove fine cars, dated fast women and was a regular on the nightclub scene. The lifestyle took its toll—he became an alcoholic.
His flamboyant lifestyle and inflammatory in-your-face outbursts about how blacks should defend themselves from white policemen drew the attention and resentment of New Jersey police. To them, given his early prison record, he was nothing more than a loudmouth habitual criminal who got lucky. Thus, when a racially charged triple murder at a white bar, perpetrated by two black men in an auto similar to Carter's occurred, Carter and a friend, John Artis, were stopped and questioned as suspects. Despite there being no evidence other than the testimony of a petty criminal who "identified" Carter and Artis after being prodded into it by the police, both men were tried and convicted.
Surmounting Prison Walls
Descending into the hell of prison life, Carter refused to wear prison clothes or eat prison food and so spent his time in solitary confinement. Friends tried to help. A book editor encouraged Carter to write a book to drum up support (his autobiography, The 16th Round). Carter also studied law and worked on his appeal. Gradually, he became a symbol of racism and penal system abuse and attracted celebrities such as Muhammad Ali to his cause. Bob Dylan wrote and recorded a song about him and visited him in prison. It was nine years before Carter got a second trial. He lost and darkness again descended upon him.
---
Note: There are three books that deal with Rubin "Hurricane" Carter.
1. The 16th Round: From Number 1 Contender to Number 45472 (Rubin Carter's autobiography).
2. Lazarus and the Hurricane: The Freeing of Rubin "Hurricane" Carter by Sam Chaiton and Terry Swinton.
3. Hurricane: The Miraculous Journey of Rubin Carter—An Authorized Biography by James S. Hirsch.
Of the three books only the authorized biography is reviewed here. It deftly summarizes the story and provides an overview that is more objective than both The 16th Round (which was largely meant to seek support for the incarcerated Rubin and to champion prison reform) and the Chaiton and Swinton book, which focuses heavily on the authors' adopted youth Lazarus and how, through him, they came to work for Rubin's freedom. The authorized biography is also the only one that discusses Rubin's studies of religion and philosophy and has chapters entitled "Search for the Miraculous" and "The Inner Circle of Humanity."
---