The Gurdjieff Legacy Foundation Archives
Rosamund Bland (1886–1950)
---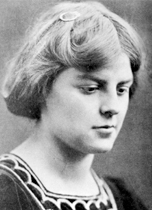 Rosamund Bland was born in England.1 Her father, Hubert Bland, and mother, Alice Hoatson, were not married but lived in the same household with Bland's wife, Edith Nesbit, a writer of children's literature.2 Hubert and Edith were among the founders of the Fabian Society; they adopted Rosamund and another child of Hubert's conceived with Alice outside of the marriage.
Bland was tallish, dark haired and rather heavy.3 Attracted to powerful men, they were also attracted to her, as evidenced by an affair with H. G. Wells when she was a teenager living at home. She was the long time companion of A. R. Orage. During this relationship, apparently to conform outwardly to convention, she was married in 1909 to Orage's friend Clifford Sharp, who became the editor of the New Statesman in 1913.4
Orage introduced her to P. D. Uspenskii in November 1921, when Uspenskii first came to London to give talks on the Work.5 She immediately attracted his attention and joined his group. They had frequent private meetings and she eventually became his secretary.
Bland met G. I. Gurdjieff in March 1922 and later went to the Prieuré when it opened in October. She was ill at the time, and Gurdjieff helped her. But he said he could not help her any further, as he had no time, and advised her to return to Uspenskii in London. She did stay with Uspenskii, but when she later met Solita Solano, she told her she bitterly regretted not following Gurdjieff. Solano wrote of this in a letter to Alice Rohrer, another member of the Rope, describing several meetings the two had in 1937.6
In 1934 Bland wrote a novel, The Man in the Stone House, about a young girl's need to elude parental legacies and impositions. Extracts of nine letters she wrote about her initial meeting with Uspenskii and the early months of their subsequent relationship were published in a limited edition.7
---
Notes
1. Genealogy webpage of John Blythe Dobson.
2. James Webb, The Harmonious Circle (New York: G.P. Putnam's Sons, 1980), 222-23.
3. Solita Solano Archives, Library of Congress.
4. Sharp was the first editor of the New Statesman magazine from its foundation in 1913 until 1928.
5. Rosamund Bland, Extracts from Nine Letters Written at the Beginning of Ouspensky's London Work in 1921 (Cape Town: The Stourton Press, 1952).
6. The Gurdjieff Journal, Number 49, 17.
7. Nine Letters.